A look back at where it all began
In 2020, a global pandemic forced us all to change behaviours, adjust and find a new path; all aspects of life have been affected.
Riding the waves of headlines about lockdowns and personal tragedies there have been lighter news moments, drawing out the positive and motivating news stories. Among them was the social media trend showing pictures of 'how it started: how it's going'. You may have seen that we shared our own earthware photos!
It made us stop for a moment, reflect on how earthware started, how it's going (especially through 2020) but also where we're heading. This is an interview with Neil Osmond, earthware's CEO and co-founder, as he looks back on where it all began.
So what was the idea behind earthware and how did it all start?
I'd known Brian (Brian Norman, earthware co-founder and CTO) for 6 years but, in all that time, we'd never talked about business. All I knew was that he was a techie. So when my computer broke down, Brian was the friend I called to see if he could help me resurrect my hard drive. While he was doing it he asked if I'd like to see what he'd been working on his spare time. I didn't really, but politely said yes! He'd found a way to gather cinema data and plotted it on Google Earth, and within 1 minute I could see all showings of film in our local area (something that would have previously taken more than 10 minutes searching on individual websites). It was a great idea and I thought, "I reckon I could sell that"!
Armed with a great idea, you must have been keen to get it all started?
Well not quite, everything had to align first. We agreed that 3 things had to happen: Brian didn't want to abandon his boss, we wouldn't place our families in financial risk, and we had to have an idea that we thought was worth it and that was thought through. It was actually after a year of meeting on Saturday mornings to flesh out our business plan, the company that Brian was working for was sold and 12 months of funding had been put in place, that we were ready to form earthware.
We had a plan to create something brilliant - a values-based organisation that we'd always wanted to work for and one that people would want to work with.
That sounds like a sensible approach.
Ah, but looking back on the fact that I had a good job, a young family, but had never worked with Brian before (or seen any of his work), no money, no track record in selling digital products, the me of today would probably advise my former self to think twice. However, someone once told me 'The best advice that anyone can give you, is what they would do in your position. It's not what you should do in your position,' and I guess that's true.
So how did earthware move from maps to medicine, and become a digital agency specialising in pharma?
Our first business was selling a mapping product. We'd found a niche and gave it a go. But after a while we realised that while our maps were good and looked great, they made the websites they were posted to look rubbish! As a result, we started selling services to build websites, which in turn helped us sell more maps. But in doing so, we suddenly had skills that could be used to help my old pharmaceutical sector network.
What's been the biggest challenge?
Building a business is exciting but each of the stages of growth require different sets of skills. The skills needed to launch were very different to those we needed to achieve £1M revenue. You have to keep evolving. Things that made you successful yesterday won't keep you that way today or tomorrow. No one stage is harder than the other, they're just different. I feel like my job evolves constantly - it keeps me engaged but it can be a challenge.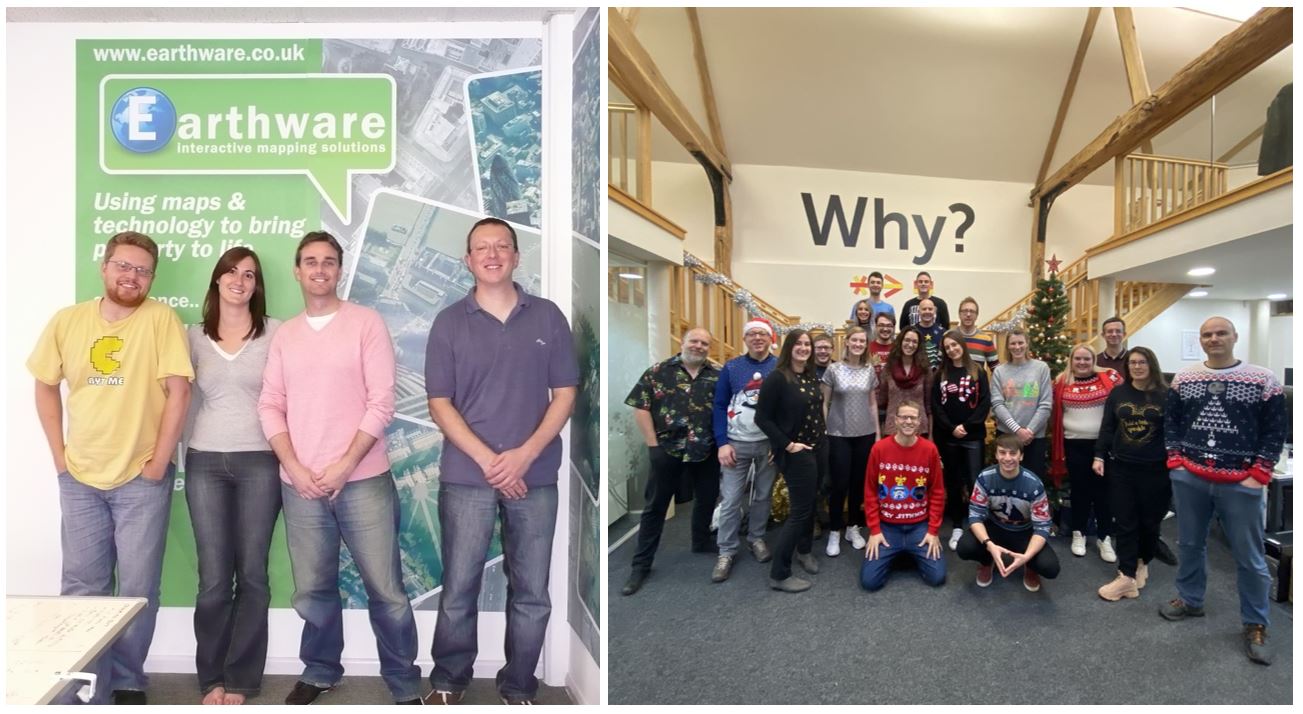 What would you describe as your proudest moment in the earthware journey so far?
I think the moments that make me proud are when I reflect or observe how much many of our team have grown and flourished while they have been on the journey with earthware. Seeing individuals doing amazing jobs and realising their personal ambitions is very rewarding.
I'm obviously also very proud of the work that we do. It's hard to single out individual projects, but from our mapping days I was especially pleased with the work we did for the 2012 Olympic Games (millions of people using our maps over 9 months, without a single support ticket being raised!). But the work we do today supporting healthcare professionals and helping patients become the hero of their healthcare journeys, such as our work with PAPYRUS and OHS has the potential to have saved lives. Now that's something to be really proud of!
And finally, if you had to describe the earthware journey in just 3 words, what would they be?
Ideas. Energy. People.
And there you have it, a look back on where it all began.
Look out for our next interview with earthware's Managing Director, Chris Finch, as he looks back on 2020, the year like no other.