2020 – a global pandemic, social distancing and national lockdowns; a year many of us will want to forget.
The economic challenges it presented have been catastrophic for so many sectors, but the pharmaceutical industry has been thrust into the limelight as it strives to develop vaccines and cures whilst delivering products and support to a healthcare community in new remote ways. Put simply, COVID-19 accelerated the need for digital innovation in 2020.
In this interview with earthware's Managing Director, Chris Finch, we look back on this past year, and reflect on the experiences of working at a digital health agency through a global pandemic.
Well, none of us saw COVID-19 coming, did we?! When the outbreak first happened, what were the main priorities for you and the earthware team?
The first priority was to make sure that our team, and the environments that they were working in, were safe. This was somewhat challenging as the official guidelines from the Government were open to interpretation and changing constantly. Fortunately, our Operations Excellence Director, Lauren Eden, did an amazing job at guiding us all through it safely.
Once we were happy that the team's needs were catered for, we then turned our attention to what it would all mean for our business. Would pharma companies continue to spend budget? Would they cut everything back? Very quickly we recognised that because of the very traditional nature of the industry, which is so reliant on sales representatives and medical science liaison teams having face-to-face contact with healthcare professionals (in meetings, educational events, and congresses), things would have to change dramatically. As a digital solutions agency, we saw an opportunity for earthware to help our clients adapt.
So how did earthware's clients respond?
Our existing clients were already engaged with digital and our ways of working remotely, so didn't experience much of a difference. We continued to have daily stand-ups on Microsoft Teams to keep projects running, in the same way as we did before the pandemic.
For pharma companies in general - they had to adapt. The fact that reps couldn't fulfil their roles in the way they had before meant they had to start making sales calls remotely and planned medical education events had to be converted to webinars … and they had to do it quickly! That was challenging for the industry.
The fact that the industry's customers – healthcare professionals – have been too busy to meet with pharma companies (or were unable to because of lockdown), meant that some companies furloughed their sales and marketing teams, while others took a financial hit as a result of suspended treatments and procedures.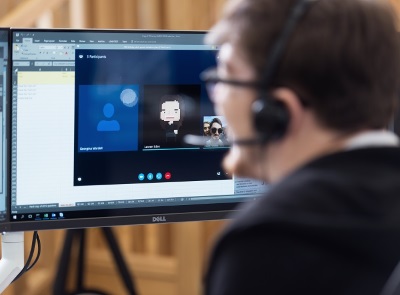 How did this affect the digital focuses for pharma clients?
We've done fewer e-Details because they're obviously a tool for reps to use at their meetings. They weren't out selling, so there was reduced need for these. On the flipside, there's been an increased interest in chatbots as an additional channel to provide customer services to doctors and patients.
We've also seen a clear increase in demand for medical education products, such as earthware Acumen - everybody has been interested in finding new ways of delivering educational content and engaging with customers. All of our clients have been investing in medical education webinars.
We've also seen a renewed vigour and interest in email (which had previously fallen out of favour) and to certain extent digital display advertising has had a bit of a renaissance. Essentially, everyone has had to find ways of getting their brand in front of customers through digital means.
The challenge has also prompted people to think creatively about their content. For example, we built a VR solution for a client before Covid. We always had a plan to bring that online, but the pandemic brought the need to re-purpose the content into an online tool forward. Re-purposing content developed for face-to-face activities into content served remotely is definitely a key theme.
Did earthware have to adjust or pivot in any way?
Despite being a digital solutions agency, all of our workshops (such as our Agile training) have traditionally been done face-to-face. So, during lockdown, we needed to find new ways of doing them remotely. It's taken a few iterations but what we have now is really quite slick. It's never quite the same experience as being in person, especially when you are trying to get everyone involved but we've managed to get pretty close to the level of interaction we get face-to-face. I was in an online scoping workshop with a client this week and it went really well.
Despite all of the challenges, what have been the highlights/key achievements this year?
First and foremost, keeping everyone safe. We've also had an incredible year financially, growing significantly compared to the year before. We've hired and onboarded 5 people remotely – a concept which would have been surreal before 2020, but it's been great to welcome them to the team.
We've also worked with more clients than ever before including many new to us in 2020. And on their behalf, the team has delivered some truly amazing work, like the LiverSync® medical device and the Covid dashboards for MaST – truly life-changing, life-saving solutions. We've got to be proud of all of that!
And finally, if you had to describe 2020 in 3 words, what would they be?
Strange. Transformational. Tough.
So that was 2020 at earthware. Join us in January for the next and final interview in our series with Brian Norman, earthware's Chief Technology Officer and co-founder, as he looks ahead at digital trends in healthcare for 2021 and beyond.