At earthware our goals are to find and solve real world healthcare problems, deliver innovative digital solutions and provide an outstanding customer experience. We regularly reflect on how we do this, so that we can be as efficient and effective as possible for our amazing clients. With this in mind, we recently implemented a new structure.
Introducing... pods!
An earthware pod is formed of an Account Manager, a Project Manager and a Business Analyst. Together they form a 'dream-team' and through their collaborative strengths, they work together to turn great ideas into a reality.
So who's in a pod and what do they do?
Account Manager: This is your strategic partner who deeply understands your brand strategy. Your Account Manager is responsible for managing the performance of your account and leads on pitches and proposals. 
Project Manager: Leads on delivering your projects to the highest standards, ensuring they exceed expectations. They own the day to day delivery of projects and are your primary contact. Project Managers are responsible for the efficiency of project delivery and for securing the right resources.
Business Analyst: Owns the scope of your projects including estimates, plans and project backlog. They determine the technical approach and provide technical sales support to the Account Manager.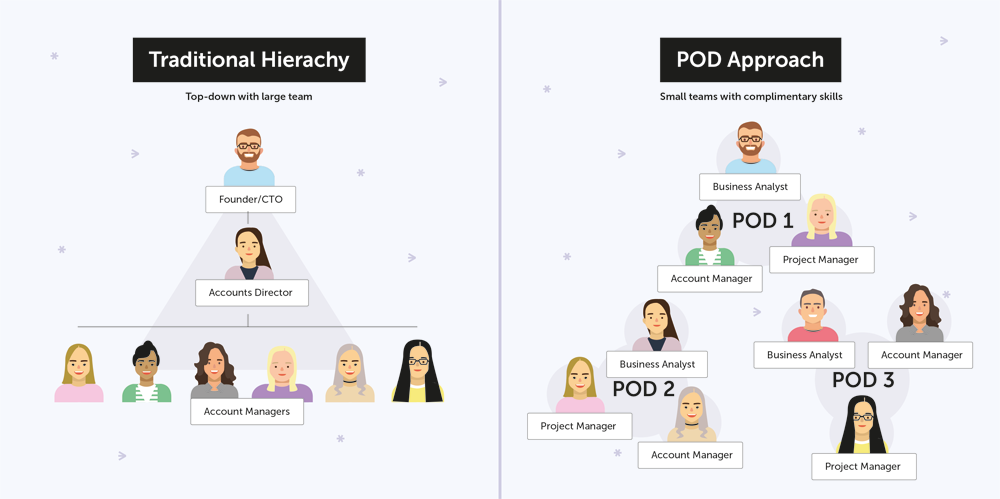 These three roles work together with our talented development and design teams to create life-changing healthcare solutions and ensure our clients get consistently exceptional customer service. We are excited to start this new chapter in our business and look forward to seeing the impact of pods!
Have you recently implemented a new policy or have a great idea to make your business more effective? We'd love to hear them!